Solar Carports
At Greensphere, our revolutionary and bespoke carport solutions give you all the benefits of solar photovoltaic (PV) energy, in addition to generating electricity on your premises and reducing the your reliance on the National Grid.
A solar carport also encourages other sustainable initiatives, including giving employees the option to connect charging points for electric cars in alignment with the growing electric vehicle (EV) market.
What is the price of a solar carport?
By having an EV charging point on your premises, you can make EV charging more secure and convenient for both company vehicles, visitors and employees cars. Our solar carport prices vary and are cost-effective for businesses in both the short and long-term. They are also eligible for governmental feed-in-tariffs.
What are solar carports?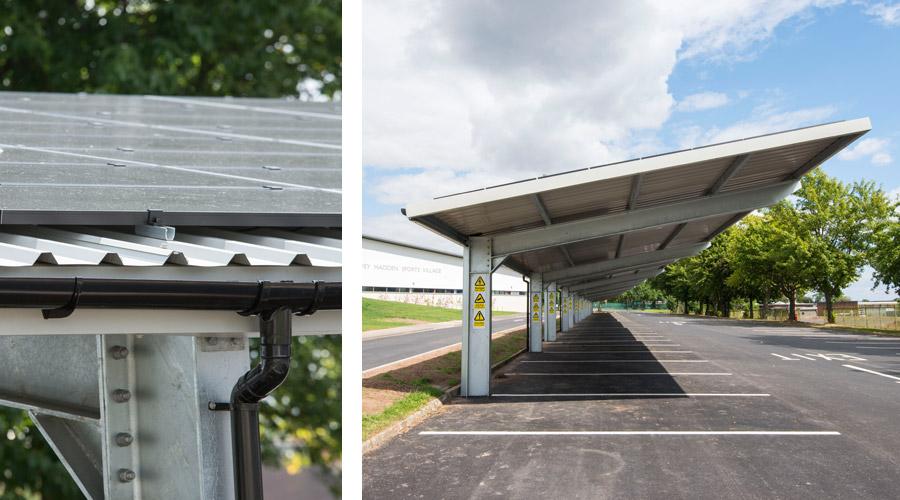 Solar carports are ground-mounted canopy constructions that stretch out over your car parking spaces. The canopy roof area is slightly tilted – offers a perfect platform for solar panels to be seamlessly mounted, which also adds to the aesthetics of the structure.
The tilted roof is not only beneficial for optimising the angle of the solar panels for energy generation, but it also offers natural drainage for rainwater which is then collected by guttering and channelled away. Electricity generated by the carports' solar panels is immediately available to be used onsite.
How are solar carports built?
Many carport solutions on the market today are 'modular', however, our technical team designs each project from scratch, bespoke to the client's needs and energy requirements; at Greensphere, one size doesn't fit all. Our leading, innovative energy solutions can seamlessly blend uniquely designed solar carports into your current premises to make sure that the carport is something you can be proud to display.
What are the benefits of solar carports?
Adds capacity for onsite generation if roofs are unusable.
Financial benefits | benefit from reduced energy bills and government subsidy
Reduced CO2 output | enhances your CSR and green credentials
Electric vehicle charging | option to connect EV charging points for staff and visitors to charge their electric vehicles with electricity generated by the PV system, in addition to company EV's
Staff & visitor benefits | in addition to the above, solar carports canopies also protect cars from the elements and keep staff and visitors sheltered when getting out of their vehicle and walking to the site
Visual appeal | positively transforms the look of your carpark
For the answers to more questions, visit our solar carports FAQ page.
Integrating PV panels on a separated carport allows for a larger opportunity to benefit from low carbon energy if the roofing space elsewhere on your premises is not appropriate for solar panels. A carport can also shield cars from any external weather conditions, offering shade in the summer, and shelter from rain and snow in the winter.
Why use Greensphere for solar carports?
Businesses will also benefit from our ability to utilise the skills of our parent company, Stepnell Ltd, a successful and long-standing construction company, for additional support where certain carport designs may require specialist engineering.
Contact us online or call us on 9999-093-019 to speak to our expert account manager to discuss your enquiry.